If you would have told me in January 2020 that I would be finding ways for discipleship groups to have both in person and online hybrid meetings, I would have laughed in your face.  
Fast forward to today and this is exactly what we are doing. I direct over forty groups that range from ten people to a hundred people in each group. These groups have been meeting online each week during the pandemic and we saw some great success and flexibility during this time. Zoom gatherings were always meant to be temporary, and last Sunday we returned to our campus. Before our return, I sent a survey to group leaders asking what they would like to do moving forward and gave them three options. 
O

nline

O

nly

 

In Person Only

 

Hybrid of

I

n

P

erson and

O

nline 



Overwhelmingly, 95% of our groups wanted to do the hybrid option. The opportunity was in front of me to figure out how we were going to pull this off and create a great experience for those in person and those online. My desire was to keep groups together the best we can because relationships were built and community was already established.  
Over the past month I have tested every type of device and technology at my disposal. I know more about Zoom than many people who actually work for the company. I have troubleshot different styles of microphones, web cameras and displays. I have used laptops, both PC and Mac. I have tried every tablet and phone to find the best configurations. 
In the same way, I have researched countless articles and videos on how to have the best hybrid meetings. I have found that secular companies have been doing this for years and they have some really great tools at their disposal.  
Regardless of the challenge ahead, the driving question to answer was, how can we have authentic Spirit led community with people in person and at home? I have compiled a few things I have learned into 5 best practices for in-person and online hybrid groups.
1. Best Technology Setup

When it comes to technology, each group has found what works best for them. Some are using an iPhone set up in the corner of the room to get a wide shot of everyone and at the same time using a laptop, also connected to zoom, showing only the teacher. Other groups are bringing in a full conference center setup to run their meetings like a state-of-the-art office building.  
The best setup we found to work that was simple, easy to duplicate and effective is one iPad on a stand connected to a TV using an HDMI to Lightning adapter. (See Picture) Of all the devices we tested, the iPad had the best built in microphone to pick up voices in the room for those online to hear.  
Make sure you test your Wi-Fi.  We pressure tested the bandwidth in our building to accommodate so many users at the same time. We ended up putting the devices used to connect to zoom on a separate network that was not public. Even after testing, we still had a few places with issues. It was bound to happen but we're working with our IT folks to make sure we can handle the load.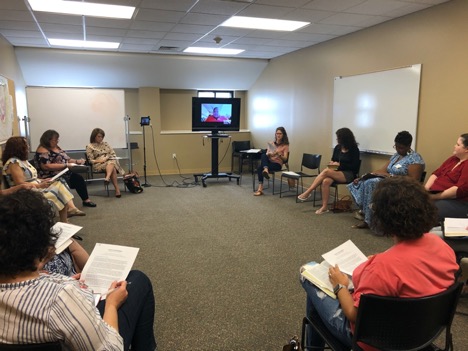 2. Those in person must be intentional. 

Those online are already feeling left out because they are not in the same room. One thing I took note of from a business article was that we must be diligent to engage those on the screens at home. I encouraged groups to set aside two times during the meeting to specifically engage and interact with those at home. First was during prayer time. Make sure you call them by name and let them be known and seen. The second time was at the end of the meeting. Engage the zoom callers for any last-minute comments. The hybrid meeting can easily leave the online folks even more isolated; we must be very intentional in not allowing this to happen.  
3. Teachers can teach from home.
We had a few groups where the teachers wanted to stay online and teach from home. I was concerned with the interaction and how this was going to play out. To my surprise, this worked well. We had several groups where someone from at home led parts of the group meeting. Make sure if you use zoom to switch the presenter view so that that person can be seen fully on the larger screens. I think the only person that struggled with the online teaching was the teacher because they were in a room by themselves and teaching to a screen. People get it and are flexible now more than ever. 
4. Have a host or co-host at home.

As we were thinking through what could go wrong, it became clear that it would be hard for the leaders in the class to teach and host the zoom meeting at the same time. Having someone online be host allows for that person to mute or unmute and control the chat feature. We also had some groups have a designated person in the class bring a separate device and host. Either way, the class leaders do not need to be zoom leaders. 


5. Presentation Slides

Many of our classes use PowerPoint slides as they teach each week. We found that the best experience for everyone is for the teacher to log in to the zoom and use the screen share feature to share his/her slides. Doing it this way allowed for the slides to be seen by those online and by those looking at the TVs or projectors in the class. It was a simple solution that we stumbled upon. This was very cool to watch in person.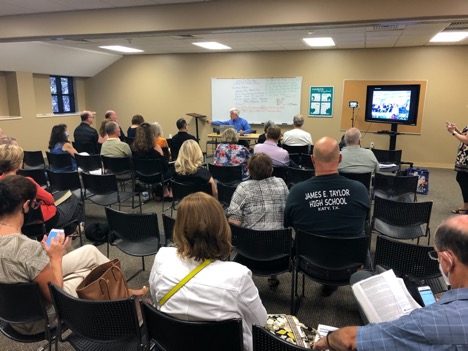 We are still learning and will continue to figure out the best way to lead our groups in this tough season.