Well, we have come to the last letter "P" as we spell out the word worship. P stands for pray. Prayer is an absolute central part of our worship. If we go back to our initial definition of worship as God initiating a relationship with man, and man responding with all he does, says, or thinks, then prayer is a critical component of this communicative process.
We can see all over the pages of scripture how prayer is used in many different expressions including praise (1 Sam. 2:1), thanksgiving (Dan. 6:10), loving adoration (Ps. 116:1), devotion issuing in a prayer or vow (1 Sam. 1:11), communion (Ps. 42:8), confession (Dan. 9:4, 20), supplication (1 Sam. 1:22), and intercession (Exod. 8:29-30; Num. 21:7).
In his book The Weapon of Prayer, E.M. Bounds states, "In dealing with mankind, nothing is more important to God than prayer. Prayer is likewise of great importance to people. Failure to pray is failure in all of life. It is failure of duty, service, and spiritual progress. It is only by prayer that God can help people. He who does not pray, therefore, robs himself of God's help and places God where He cannot help people."
Christians are invited to experience deep worshipful moments through the channel of prayer. Let us quickly look at how we are encouraged to practice prayer as a lifestyle, as a family, and as a child.
1. PRAY AS A LIFESTYLE.
First, prayer as a lifestyle is something that must be understood. If believers see prayer as only something we do at times before a meal, or just in times of need, or before bed, then we have missed the point of prayer. Ephesians 6:18 says, "And pray in the Spirit on all occasions with all kinds of prayers and requests. With this in mind, be alert and always keep on praying for all the Lord's people" (NIV).
In my younger days as a Christian, I thought of prayer like a landline phone. Remember those? As a kid, we only had one phone in the house that was attached to the wall next to the kitchen. If you wanted to talk on the phone, this was your one and only spot to do it. You were landlocked…or a least as long as that annoying twirly chord would let you travel. This is similar to how I once viewed prayer. Like the landline phone, I'd have a quiet time in the morning, pray, and then hang up and come back tomorrow. Now, I experience prayer like the relationship with my smart phone. With a smart device in my pocket, and with texting conversations that are in a continuous fashion, it's almost like conversations never end. One conversation can last the entire day. This is similar to how God wants us to pray.
Yes, there should be times of direct and intense times of prayer. Jesus frequently went away alone to pray and we must do the same (Luke 5:16). However, Jesus was in tune with the Father every moment of every day, listening, conversing, and responding through His Spirit. Our lifestyle of prayer must begin the moment we wake up to spend time with our Lord asking for His will for our day, and conclude when we lay our heads down that night by blessing the Lord for His sovereignty, blessing, protection, and work in our lives that day.
2. PRAY AS A FAMILY.
Family prayer is one of the most important things you can do as a family.
Did you read that? Let me say it again so you don't miss it…family prayer is one of the most important things you can do as a family!  It is one of the greatest teaching tools that parents have to cultivate a young heart for Jesus Christ. I have seen amazing growth in my children through the practice of prayer because it is through this repeated consistent exercise that they dig deep within themselves in ways they cannot even fully understand. In these moments, the Holy Spirit literally enters into the lives of our children to help and guide them in this childlike communion (Romans 8:26).
Our family tries to make it a point to pray together multiple times a day. We pray during family devotions in the morning, pray before our meals together, pray throughout the day as certain things come to mind, we pray for our friends and family who are hurting or struggling with health or other situations, and we always pray before bedtime. We also have a "stop, and pray right now" approach. Here's what I mean… many times we tell people, "I'll be praying for you." Now, there is nothing wrong with that statement, but we have tried to build a family habit that when something or someone is mentioned that is in need of prayer, we stop and pray right now. This teaches our kids that there is never a better time to pray for a friend, your church, your family, your health, your fears, someone in need, or anything else than right now.
3. PRAY AS A CHILD.
Lastly, we are to pray as a child. There is a critical difference between "childish" and "childlike" when it comes to prayer. A childish prayer is one of immaturity and foolishness. In fact, the most childish prayer is from the person who has given no time for prayer in the first place. However, a childlike prayer is a beautiful picture of worship. We must pray as children would talk to their Father.
The wife of Charles Spurgeon, Susannah, wrote about the childlike prayers of Charles and how it was seen and heard in their family prayer times, "After the meal was over, an adjournment was made to the study for family worship, and it was at these seasons that my beloved's prayers were remarkable for their tender childlikeness, their spiritual pathos, and their intense devotion. He seemed to come as near to God as a little child to a loving father, and we were often moved to tears as he talked thus face to face with His Lord." Jesus taught us to pray by beginning with, "Our Father who art in Heaven…"(Matthew 6:9). Jesus, the very Son of God, is inviting us to pray within a similar relation to the Father as He did.
When we choose not to pray with a childlike faith, we also are not understanding the full measure of Christ's sacrifice to bring us into the family of God.
However, when we come as children by bringing our hopes, dreams, petitions, concerns, questions, and joys before the Lord, we are worshipping by enacting the relational gospel each and every time we pray.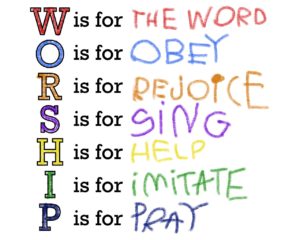 There you have it! A simple way to spell out worship that you and your family might learn and grow in the many different dimensions of what worship truly is. Part of the intricacy and magnificence of worship is that each of these categories interconnect with each other. For instance, we know that when we rejoice in our afflictions, we are also imitating Christ. Or when we sing a psalm or a sacred song, we are also experiencing the power through the Word of God. Furthermore, when we are helping our brothers and sisters, we are also obeying God's command. Worship is a web of separate yet connected truths that all intersect with each other. This is why worship is difficult at times to fully grasp and easier to fit and confine within a box of a church service.
Although worship has great benefits to the worshipper, it's important to always remember that we don't worship God for what we might get out of it, we worship God as individuals and as a family because He is worthy of worship. As we try to incorporate these truths in our homes, I leave you with this…I pray that the declaration found in Psalms 78:2-7 would be said in your home, and in every Christian's home in every culture.
"I will open my mouth with a parable; I will utter hidden things, things from of old—things we have heard and known, things our ancestors have told us. We will not hide them from their descendants; we will tell the next generation the praiseworthy deeds of the Lord, his power, and the wonders he has done. He decreed statutes for Jacob and established the law in Israel, which he commanded our ancestors to teach their children, so the next generation would know them, even the children yet to be born, and they in turn would tell their children. Then they would put their trust in God and would not forget his deeds but would keep his commands." (Psalm 78:2-7 NIV)